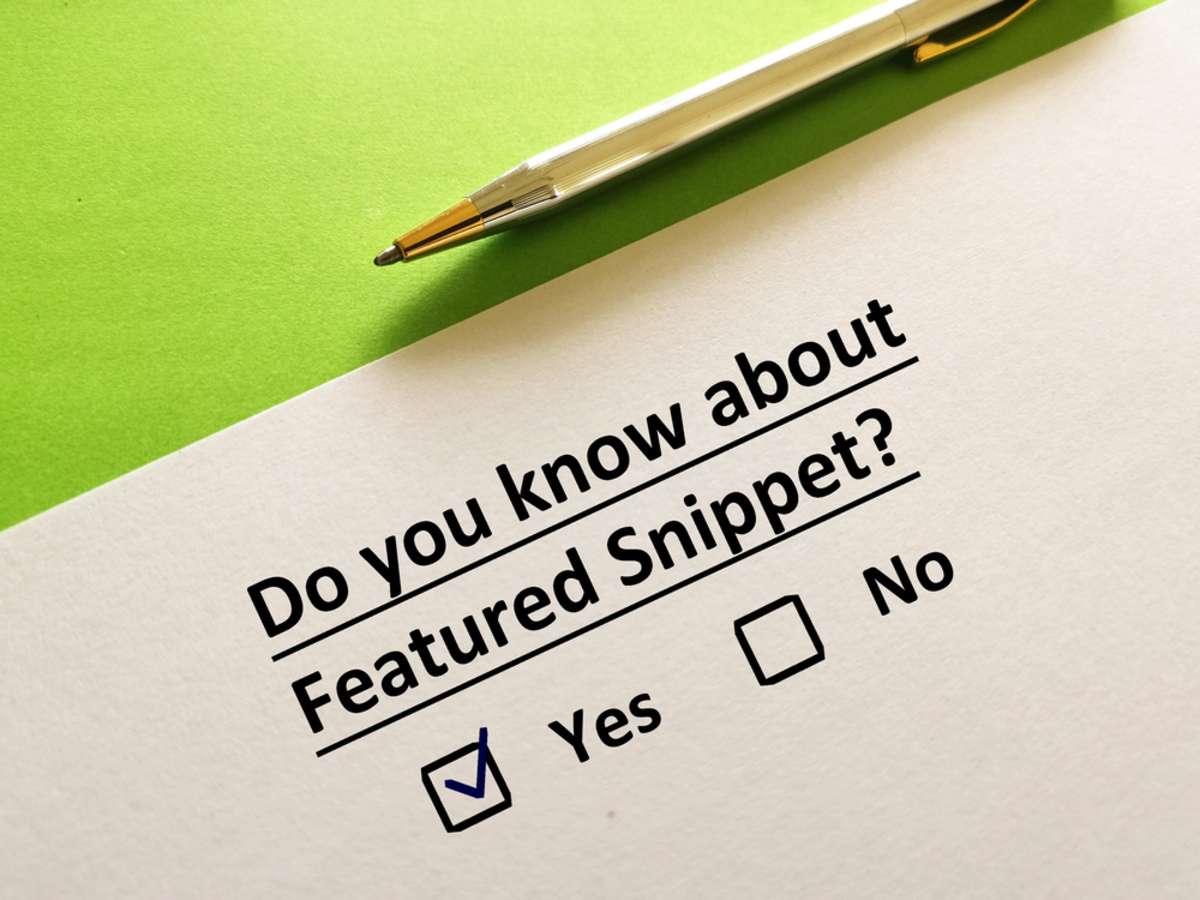 SEO Techniques: What Is a Featured Snippet?
Updated March 27, 2023
Anybody who oversees marketing for a small business can attest that getting visitors to their website from search engine results pages (SERPs) is not always easy. Not even the best SEO ranking factors will reach the top if you don't have a plan. Fortunately, there are specific things you can do to boost your visibility.
Featured snippets can be an effective strategy for increasing traffic to your site. Google's highlighted snippets provide instant and relevant answers to searchers' queries. These excerpts may help you attract visitors and broaden your audience if you can earn those coveted spots on the search results pages.
Today we explain what featured snippets are, why they help increase traffic, and how you can craft the best SEO techniques to increase your chances of being included in one.
What Is a Featured Snippet?
A featured snippet is an emphasized section of text that appears at the start of a Google search results page. For this reason, it is also called "Position 0."
Featured snippets may be either text, a table, a list, or a video. Any of these could help increase traffic to your site from search engines, as they provide users with an instant solution to their problems (and high visibility for your website) due to the prominent placement of the box on SERPs (search engine results pages).
The Importance of Featured Snippets for SEO
For almost any industry, whether you're in real estate, manage rental properties, or deliver roofing services in your area, it's more challenging than ever to stand out from the crowd and attract targeted website visitors searching for certain terms. That's why in today's digital-first society, the websites that provide the best answers to users' most pressing queries about a topic are the ones that rise to the top.
According to a study by Search Engine Watch, featured snippets make up 35.1% of all clicks. Moreover, with the right SEO tactics, even if you're not ranking on the top result, your website can be chosen to be displayed in the featured snippet, thereby enhancing the chances of an increased CTR (click-through rate).
What Are Various Types of Featured Snippets?
If you would like your information or a blog post to have the highest chance of being included in a featured snippet, knowing which snippet is most appropriate for your subject can help. In the following section, we'll describe how Google presents information using different types of featured snippets.
Definition-Style Snippets
Nearly three-quarters of all highlighted snippets are definitions, making them the most prevalent category. This nugget gives readers an easily digestible definition or summary of the subject.
Some searches are based on inquiries or requests for clarification. You'll also see definition boxes for these snippets. Definition snippets are often used for elementary questions, such as when a user looks up a word's or concept's definition.
Listicle Snippets
Lists are used for anything from serving recipes and directions to ranking items like television series and movies. You may use a list to demonstrate a hierarchy, outline a procedure, or name several things.
You'll find bulleted lists of ranked and unranked items, highlights, and "best of" collections in featured snippets, which may be arranged or unordered depending on the list's purpose.
Step-Style Snippets
Another popular type of featured snippet is similar to a "listicle" but features step-by-step instructions to accomplish a task.
For example, in a cookbook or instruction manual, this might be used to indicate a series of stages to make a cake. So, if a user types something like 'steps to make a cake,' they'll get a guide of steps on how to create a delicious cake.
Table-Style Snippets
Information presented in a table formatted snippet is simple to read and comprehend. In addition to retrieving data and spitting it out in its current format, this can provide the precise data the user needs to know.
How to Star in a Feature Snippet
While there is no sure way to get featured in Google's snippets, there are specific SEO techniques you could adopt to increase your chances. Here are some techniques to optimize your content for Google's featured snippet.
Conduct Keyword Research: Conducting thorough keyword research (including long-tail keywords) is essential for every search engine optimization campaign. Doing this can guide you toward the most effective content creation strategies.

Add Structured Data: Structured data is one of the most effective organic SEO techniques to help major search engines like Google, Yahoo, and Bing better understand your material and provide informative excerpts.

Optimize Headers and Sub-headers: Having well-organized and formatted information might increase your chances of being selected for featured snippets. In addition, your content's structure, including the headers and subheaders, should make intuitive sense in light of the questions being asked.
In addition to these techniques, applying good SEO best practices to your content helps Google rank your site higher. If you land in a high-visibility spot as a snippet, you'll want your website to deliver an excellent user experience to more visitors seeing your site for the first time. Be sure your page speed is optimal, and pages have no broken links that could become a poor ranking factor.
Again, while these techniques can't guarantee you'll land in a featured snippet spot, they do work toward improving your overall SEO ranking and organic traffic.
Target Different Types of Featured Snippets to Boost SEO Strategy
Being highlighted in featured snippets comes with multiple perks. Applying the right search engine optimization techniques can get you closer to a featured snippet while increasing your overall site traffic.
Whether you're starting to apply SEO to your website and content or looking for more advanced SEO tactics, Geekly Media is here to help you optimize for search engines with the right SEO ranking factors! Speak to a Geek to learn more.
Learn more about SEO with our free resource, "The Business Owner's Guide to SEO In 2022!"