Pay-Per-Click Ads
You want to grow the right way. You want to attract the right website visitors and generate the right leads, but you need customers right now! Waiting on your inbound marketing to start generating leads is the best path forward, but it might be taking too long or you might need to supplement your efforts. Business owners face situations like these every day. What do you do?
Geekly Media and our world-class pay-per-click engineers have the solution.
PAY PER CLICK ADS
Paid advertising is an effective way to drive the right traffic to your website -- if you know what you're doing.
We'll help you create an intentional focus on paid ads so that you see a nearly instant flow of leads. Plus, we use intent-based retargeting and HubSpot's powerful analytics tools to ensure no lead is ever lost. Let us take the guesswork out of paid advertising so you can focus on closing all the new leads you'll generate.
When used with an optimized inbound marketing strategy, paid advertising can help you achieve better results and maximize your ROI.


Paid ads can help you target specific keywords and demographics and can also help you increase brand awareness and generate leads. If you're looking to improve your online marketing results, consider using paid advertising as part of your strategy. It can be a great way to take advantage of keywords you're already ranking for but aren't getting the search volume you want.
Increased Visibility
Paid ads can help you reach a larger targeted audience than you would be able to through organic search results alone.
Targeted Traffic
You can target specific audiences based on demographics, interests, and other leading indicators with paid ads.
Increased Sales
Paid ads can help drive the right kind of traffic to your website, resulting in increased visitors, better leads, and faster sales.
What ad platforms will Geekly manage for me?
Google Ads
Google is the king of online advertising. Businesses should use Google ads to take advantage of the 246 million unique visitors each day to reach their target audiences. Additionally, Google offers a variety of ad formats and targeting options, to help businesses can find the right audience for their products or services
Facebook Ads
Facebook also has an excellent system for targeting ads. By layering different targeting options on top of each other, Facebook can ensure that you're generating leads from people who are genuinely interested in your products or services. This makes their ads relatively inexpensive and a great way to reach a large audience.
Instagram Ads
With more than 500 million active users every day, Instagram is becoming another popular place for businesses to get their message out. Instagram users tend to be more passionate and engaged. Plus, since Instagram is a visual platform, ads can tell stories with photos and short videos of your products, services, and team members.
LinkedIn Ads
LinkedIn is an excellent place for B2B companies to promote their products and services. With over 600 million members, the site is the planet's biggest social network for professionals. Users on LinkedIn are more likely to be interested in purchasing items and services relevant to their organizations.
TikTok Ads
With over 100 million active monthly users in the U.S., advertisers can quickly engage with a large audience. TikTok allows brands to create video ads that allow users to interact with your brand. TikTok users tend to spend an average of almost 11 minutes every time they open the app, more than most social media apps.
Retargeting Ads Service
Retargeting allows you to target people who have already shown an interest in your product or service, which means you're more likely to get them to notice your ads. If you're not using retargeting, you're missing out on a powerful tool to get the most ROI from your pay-per-click campaigns.
Ready to start generating the right leads, right away? Speak to a Geek today!
Our team of certified HubSpot Geeks is ready to help your business grow. Schedule below and speak to a Geek, today!
Three Steps for Effective PPC Paid Advertising at Campaign Launch
Who Is Your Target Audience?
Our pay-per-click engineers will work with you to identify your most profitable keywords and your ideal target audience to support your perfect customer persona. This is the first step toward designing a successful pay-per-click campaign that will help you feed your lead nurturing machine. Don't have a lead nurturing machine? We can help with that!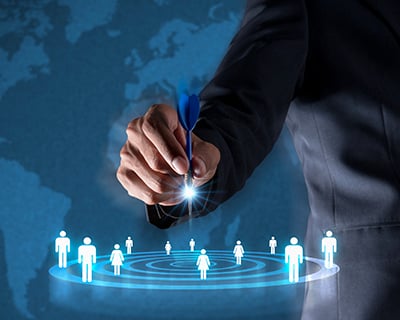 What Clients Say About Us Geeks
We worked with the Geekly team on a project that had gone off the rails. They saved the day, big time. We got great creative that "wow-ed", super fast and responsive team, friendly and fun collaboration, and made new friends. We are so grateful for Heather and the WHOLE GEEKLY team! We look forward to working with them again.

We partnered with Geekly to automate some of our operational systems. They were able to walk us through a process and build a ticketing system and automation for our rent collections, late rent/eviction process. We were able to move one full-time employee off of rent collections and re-positioned them elsewhere in the business.

Can't say enough about Geekly. They are truly experts at what they do and have helped our company tremendously!

Great experience, great team with a wealth of knowledge on HubSpot. Appreciate everything you have done to help us get up and running on HubSpot.

The Geekly team has been amazing to work with. Thanks to everything that they have helped us build our day-to-day operations run smoothly and efficiently.

The team at Geekly has been awesome to work with. They have top-notch talent in so many categories and have really delivered way above expectations on our projects. Our growing business has switched gears several times and they are able to roll with our changes effortlessly. We appreciate you all!

Geekly has truly been top-notch to work with. It is rare you find a consultant who communicates as well and follows through. Very happy with the process and outcome.

WOW, what more can I say about Geekly. They are experts at what they do and have helped our company tremendously! Dealing with Ross has been one of the highlights such a fantastic dedicated efficient detail orientated person. Thank you