Property Management Marketing: Build Your Client Base With a CTA
Published August 6, 2019. Updated August 29, 2023.
Ah, the ubiquitous "call to action" (CTA); you've probably read them hundreds of times. "Click here!" or "Call now to find out more!"
Just how much can a CTA contribute to your content, anyway? What makes a 'good' CTA as opposed to one that people ignore? What are the best points to stress in a CTA for a property management website?
Geekly Media, A HubSpot Diamond Agency, knows there is a balance to strike when writing a CTA. You don't want it to be too pushy, but you do want people to acknowledge it — and click! You have to provide your potential clients with a good reason for clicking through or entering an email address to generate leads — and it's best if they know why.
So, today, we talk about property management marketing CTAs and how to build your client best with calls-to-action that convert!
What Is a CTA In Marketing?
A CTA, or Call to Action, is a prompt in marketing materials designed to incite a response from the audience. It's often the "next step" that marketers want consumers to take, like "Buy Now," "Learn More," or "Sign Up."
The CTA is crucial because it bridges the gap between passive content consumption and active user engagement.
In digital marketing and inbound strategies, CTAs can be found in various forms, including buttons on web pages, links in emails, or text in social media posts. They often stand out visually through bright colors, bold fonts, or eye-catching graphics to grab attention.
The language used in CTAs is equally important; it's typically direct, concise, and action-oriented.
CTAs are essential in funneling buyer journeys, whether that's to make a purchase, fill out a form, or share content. They can be the difference between a passive viewer and a converted customer. Therefore, property management marketers must invest time and resources into crafting effective CTAs that align with their goals and speak directly to their target audience.
With a CTA, Everyone Should "Win"
If you're writing blogs and adding calls to action to your property management website, you should know that your marketing content needs to be chock full of benefits for your customers and potential customers.
For example:
What does the specific piece of content offer your customer?

What benefits will the customer experience if they follow through with the CTA?
You should always reiterate the main perks offered by the content that your customers are reading in the CTA. This way, when they click on the link or enter their mail address, they will do it with a purpose and look forward to awaiting the next action you ask them to take.
Give your clients the marketing carrot, not the marketing schtick.
For example, if the main benefit of your content piece refers to staying on top of fitness center updates for rental properties, then your call to action should not be copied and pasted from the last bit of content about water heaters breaking in the middle of winter.
Just as your potential customers can tell when you've put effort into content, they can likewise discern when you phone it in. Simply put, you could lose customers when people notice you are too lazy to update your CTA.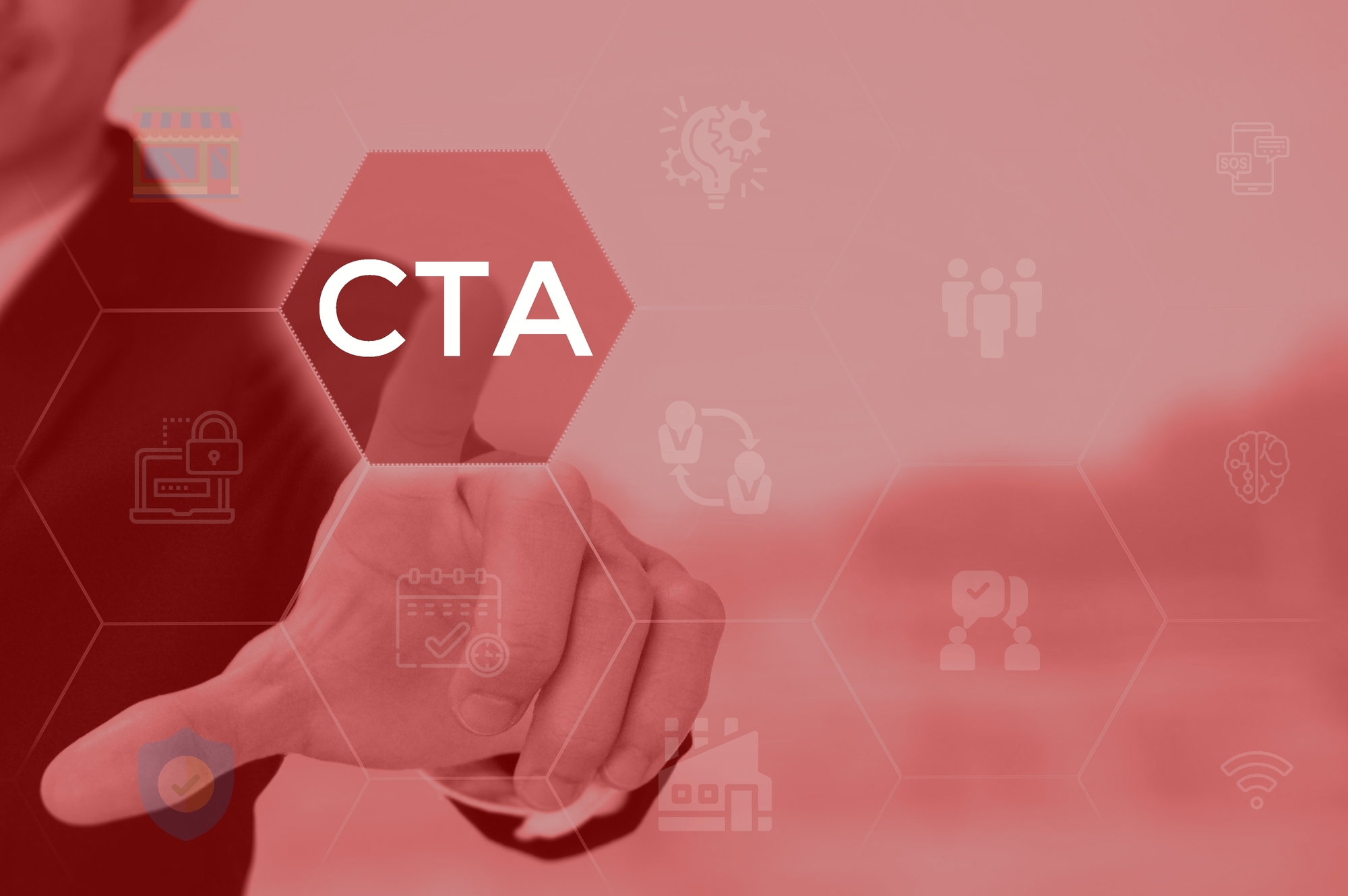 Your Readers Are People — Speak to Them!
What makes an effective call to action? Talking with your audience as if you know who they are and encouraging them to take advantage of something they can 'really' use!
CTAs that lead to empty promises, tons of spam emails, or don't fulfill a need for property owners won't leave to better conversations or more property management leads.
Your target audience is property owners who are looking for assistance with their properties. So, consider why property owners look for property management companies when crafting CTAs.
Property owners:
They don't want the headache of managing people.

They need to save time.

They do not feel they have the expertise to screen occupants.

They don't have access to the mechanics and other workers that you do.
Speak to your readers in your CTA by addressing how your company will help with their needs. For example, tell them that following up will save them the headache of botched background checks and middle-of-the-night service calls. Or, if your property management company offers eviction services, be sure to stress that point as a solution to common landlord-tenant difficulties.
An Effective CTA Is Urgent
Building a sense of urgency may be a bit harder for a property management company to convey in a CTA than a resort, weight loss pills, or "receive 25% off your next order," but it can still be done.
Crafting a sense of urgency in a big-ticket item or a long-term agreement often has to do with the integration of external factors — primarily timing.
If you have a general post about how property management can help people save time and money in the long run, post the piece heading into the busy rental season. Tell landlords that they only have a specific number of days until the next move-in rush and to make the change now!
Another way to build a sense of urgency among property owners is to search out a time-limited deal you can give them. You could say, "Sign up for a full-service package now and receive 25% off" on snow removal, landscaping, or general maintenance for some amount of time.
Get as creative as you need to be: If you are unable to discount services, then offer holiday hallway decorations for a season and do the work yourself. With some clever thinking, you can give new customers a reason to click on that call to action that won't cost your property management company much up-front but will reap benefits long-term.

What Are Some Good Call To Action Examples for Property Managers?
We've mentioned a few examples of CTAs for property management lead conversion in this blog, but there are lots of options depending on your target buyers, your offers and services, and where buyers are in the buyer's journey (Top of the Funnel, Middle of the Funnel, Bottom of the Funnel).
For example, a brand new visitor to your website might not be ready to pull the trigger and sign a contract for your services (Bottom of the Funnel). Still, they might love a free download about how to screen tenants — a low-pressure yet helpful resource that helps them find better tenants and get to know your company a bit better.
When we help companies in the property management industry build content marketing strategies and campaigns, we develop CTAs that support the content while also driving more leads. So, these can include calls to action like:
Download Your Free Make-Ready Checklist

Click to Schedule a Free Strategy Session

Get a Free Rental Analysis

Get Your First Month Free

Book a Discovery Call

Learn About Our Maintenance Services
Depending on your specific services or an offer exclusive to your company, CTAs can be customized to encourage visitors to convert in a wide variety of ways. The key is to nurture buyers with SEO content that supports your goals and ranks higher to drive more traffic and deliver quality leads who are actually interested in what your CTAs offer!
Can They See Clearly Now?
Potential customers need to be 100% clear that you are offering them a service and want them to click through and respond to your offer. Otherwise, you could end up with confused people wondering why you were calling them about managing their properties when they thought they were signing up for a Flower of the Month club at the end of a piece about landscaping.
A call to action that gets action is a piece that clearly states what it is and what it offers; you want it to include all of the necessary parts listed above. In addition to the examples we provided above, here are some examples of great CTAs from HubSpot.
You can also determine if your CTAs are working for your property management business by following these steps to analyze performance.
At the end of a blog post or other piece of content, reiterate the benefits highlighted in the content that you are offering. Offer to solve a common problem for your customers. Give them a good reason to click by creating urgency, and be clear that, yes, this is a pitch, and you are offering them something in exchange for their trust.
Optimize Property Management Website CTAs for Your Audience With Geekly Media!
A compelling CTA is just one component in the overall health of your marketing plan! Do you know all the individual elements at play in a successful marketing campaign? Take a look at our blog series on property management marketing strategies to learn more! Part two, "Property Management Marketing Campaigns: Crafting Your Plan," addresses the fundamental pieces of any marketing campaign explicitly.
Or, you can tap into our expertise with a content marketing strategy and CTAs by clicking the button below to contact us. P.S. That button below is a CTA . . .