Updated December 8, 2022.
It's been the same conversation for more than a decade.
Your traditional marketing tactics—cold calling, email blasts, mass advertising, etc.—aren't working anymore. Your customers are in control, and you need to embrace an inbound methodology that attracts property owners to your site, converts them into leads, closes those leads, and promotes loyalty. Making that transition is easier said than done. And one of the biggest challenges is going from understanding that you need content to know what relevant content to create for your target audience.
Don't just take a publish-and-pray approach to content. Understanding how your content offers a map to the buyer's journey will help you make inbound marketing more effective for your property management company.
Stage 1: Awareness
Customer-centric marketing can't start with pushy sales pitches or overly-promotional content.
At the awareness stage, customers are researching their most pressing problems. Maybe a prospect just purchased another property and can't find the time to manage everything. Perhaps they don't live near the new property, making management difficult. Or, maybe they want to take a hands-off approach to property management.
In any case, the awareness stage is your opportunity to educate potential customers. The more helpful you are, the more likely you'll be able to move cool leads into the middle of your funnel.
The following types of content can help you educate prospects, create an air of authority around your brand, and build trust:
Blog posts that focus on solving the most difficult challenges that property owners face.

White papers and eBooks that dig into the more nuanced issues that property managers face.

Tip sheets and checklists that offer quick references for what to do after purchasing a new property.

How-to videos that walk through everything owners need to know when managing rental properties.
There are so many different ways to approach top-of-funnel content. But as long as you're focusing on delivering value to customers—not your own business—you'll be able to generate more quality leads.
Then, once the right prospects have consumed your content in the awareness stage, they'll have the foundation of information necessary to evaluate property management partners.
Stage 2: Consideration
Congratulations, you got your ideal customer's attention. Now that you have it, you need the right content to help them discover the best solutions to their problems.
In your case, they've recognized that managing their properties on their own isn't the best plan. And now, they're trying to figure out which property management company will be the best fit.
It's time to talk about your business and its unique strengths. There are a few key content types that help you showcase your abilities:
Case studies are the most popular example because they give you an opportunity to show prospects how you've already helped property owners just like them.

Webinars can help you bridge the gap from the awareness stage by giving you dedicated time to present a problem and explain your unique solution.

FAQ pages are a great way to boost search rankings while also providing clear, concise responses to any concerns that prospects may have when evaluating your services.
Moving people from consideration to decision is typically more difficult than getting them to go beyond the awareness stage. However, high-quality content can smooth the process and set you apart from competing property management companies.
Don't just go through the motions on case studies and other consideration content. Take the time to make these pieces shine, so they tell your story in a way that persuades property owners to work with you. Then, you'll be set up to close more deals, more efficiently.
Stage 3: Decision/Purchase
Your prospects have learned everything they need to know about property management companies. They've evaluated you and your competitors extensively. And now, it's time to decide which company to partner with. How can you make sure your business is the top option?
In the world of tech solutions, free trials and live demos can help set brands apart from competitors at this stage. But as a property management company, you don't have that luxury.
Instead, you can rely on free consultations to make a difference in the decision stage. It's fairly standard to get on the phone and discuss an individual prospect's unique needs and offer some light consultation services before any deals are made.
However, you can use content to make your decision-stage interactions more meaningful. For example, generating personalized reports after that free consultation gives you a reason to follow up with the prospect after the engagement. They get a valuable piece of content that explains a smart approach to property management, and you stay top-of-mind as they decide on a partner.
In many cases, this will be the first time you actually speak to the property manager. Make it count by supplementing your conversation with compelling, personalized content.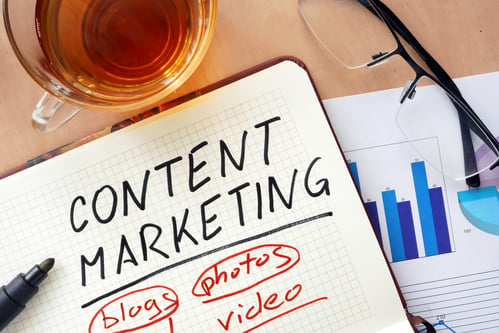 Create Your Inbound Marketing Machine
Let's face facts—not all of the standard inbound marketing advice applies to your business. You have a unique sales process that makes best practices in SEO, email, and other digital marketing tactics fall short of your expectations.
To create an effective inbound marketing machine—one that brings more owners into your funnel and delivers results—you need a strategy that fits your unique needs.
If you want to achieve the 3x ROI that inbound marketing can deliver over outbound tactics, you need a customized strategy. And that's where we can help.
Reach out to us today for more information about how we specialize in inbound for residential property management companies—and how we can help you get results.