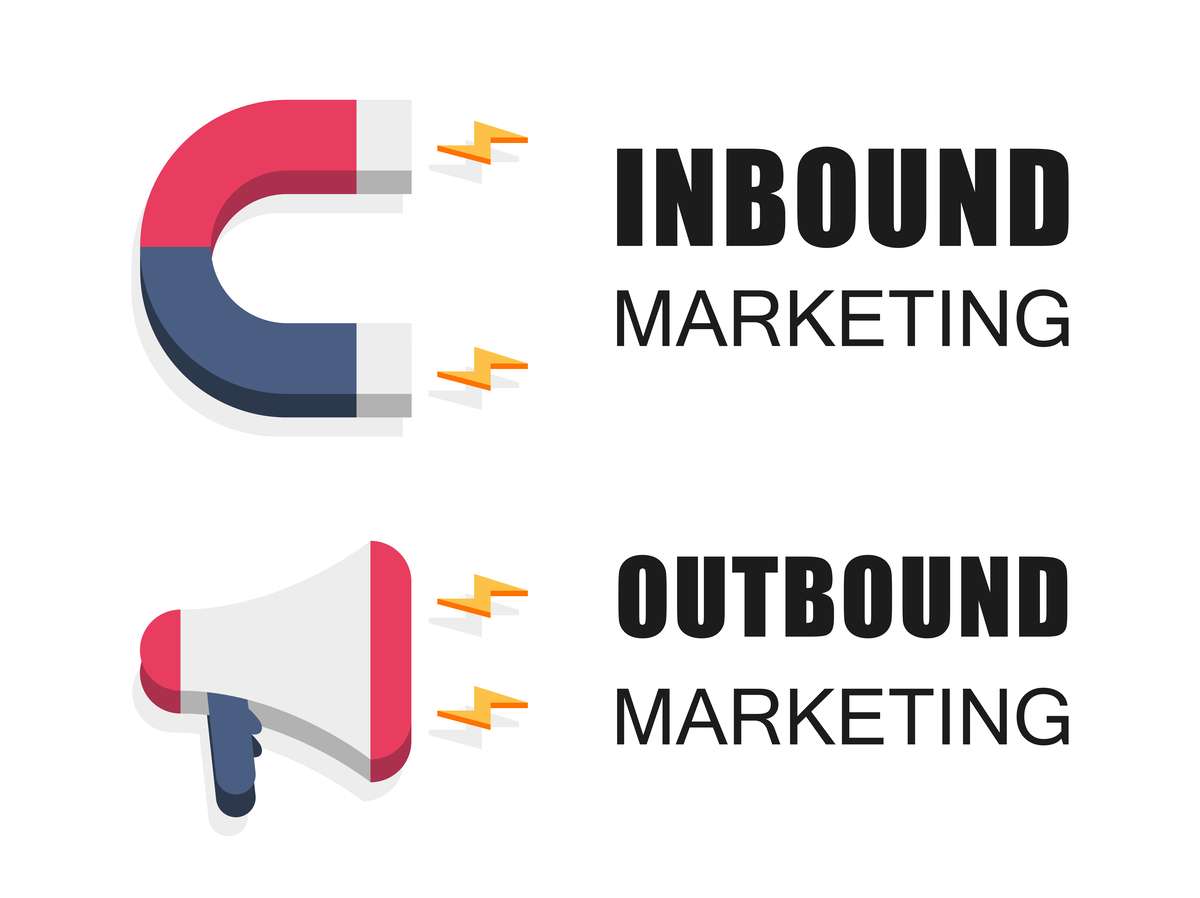 What Is Inbound vs Outbound Marketing?
Originally published June 13, 2022
Updated April 24, 2023
While the marketing world is constantly changing on a tactical level, paradigm breakthroughs in how we advertise are less common. However, one of the most significant shifts in how people market means moving from traditional outbound marketing to inbound marketing. In recent years, inbound marketing strategies have gained popularity, fueled by success stories that show measurable, consistent outcomes.
If you Google 'inbound vs. outbound marketing,' you'll be swamped with articles explaining why inbound is preferable. However, is this true and applicable to all businesses? What's the difference between the two types of marketing?
Today we'll talk about that, plus why inbound marketing can be the better strategy if you really want to grow your business!
What Is Outbound Marketing?
Often referred to as 'push' or 'interruption' marketing, a good outbound marketing definition means advertising that aims to reach as many individuals as possible to make a sale. For example, ads in print, radio, television, some direct mail, and mass emails are all designed to reach broad demographics, many of whom may not even be interested or know about a marketer's products or services.
When using outbound marketing to sell a product or service, you're having a one-way discussion with a broad market.
Benefits of Outbound Marketing
Outbound marketing efforts can have a significant impact on your company's success. If it didn't, you wouldn't see billboards or TV commercials advertising your favorite brands. When applied appropriately, outbound marketing has some advantages that we'll touch on here.
A Higher Chance of More Customers Seeing Your Message
When executing an outbound campaign, you have the opportunity to reach a broad audience. Rather than singling out a specific audience with an exclusive message, outbound marketing gets the word "out" to more eyes and more places to reach the masses. This means your business gets more exposure depending on the outbound resources that are part of your campaign.
Implementation Is Easier
Although inbound marketing is powerful, it can be time-consuming to target the right audience with the right message at the right time. In addition, smaller companies may not have the time, money, or staffing to establish a strong online presence that generates a sufficient revenue volume.
Outbound activities, on the other hand, such as mailing letters, running social media ads, and placing advertisements in public places, are generally easier to get up and running — no matter the size of your business or marketing team.
Challenges of Outbound Marketing
While outbound marketing strategies can be a good part of an overall marketing plan, they do come with some challenges. Here are a few things to beware of when considering an outbound campaign.
Long-Term Costs Are High
Your return on investment (ROI) may decrease after a few campaigns, so you'll need to spend more in the long run. Attracting new clients and generating repeat business from existing customers through this advertising method can become costly.
Difficult to Measure ROI
It's challenging to connect the cost of a billboard to specific sales or new customers to analyze returns. Without understanding the exact return on investment (ROI), you may spend more time and money on a channel that doesn't work while ignoring another more effective medium.
Unqualified or Cold Leads
Instinctively, people sign up or register when they see an advertisement that grabs their attention and resonates. Even though they're interested in what you have to offer, they'll likely require more information and direction before making a final decision. Or, they might decide it's not for them and not take any action toward your products or services.

What Is Inbound Marketing?
The best inbound marketing definition refers to a strategy based on attracting consumers rather than attempting to 'push' them to buy your product or service using outbound methods. As your customers progress through the buying process, changing your message helps qualified leads transition from 'potential' buyers to full-fledged customers!
Inbound marketing involves strategies that lead potential customers to your content online; then, you interact with them when they demonstrate an interest in what you offer. Respect, trust, and stronger connections are all the byproducts of marketing to customers with their agreement and allowing them to have control of their journey.
This strategy increases the number of qualified potential clients and business prospects that arrive at your digital front door (i.e., your website). SEO, content marketing, lead nurturing, email marketing, and social media are all examples of inbound marketing methods.
Benefits of Inbound Marketing
So, why should businesses consider an inbound marketing strategy if it's more challenging to implement successful strategies? As an inbound marketing agency with plenty of experience, we can tell you that the benefits far outweigh the challenge!
Attract and Convert More Customers
With the right content, inbound marketing tactics increase the likelihood that potential customers will learn about, interact with, and purchase from your company. By getting to know them better and providing them with relevant content that is interesting and enjoyable to read, potential customers want to get to know you better and see you as an expert in your field.
Enhance Brand Awareness
Using targeted audiences on social media and an effective content marketing and SEO strategy helps build your brand! When people search for the products or services you offer and arrive at expert and educational materials on your website, your brand gets a boost and impresses potential customers.
Increase Consumer Confidence and Brand Loyalty
Inbound marketing relies on cultivating a long-term relationship with your target audience based on mutual trust and respect.
For example, studies show that many people who have questions about their hobbies, studies, or jobs turn to YouTube for guidance. By making and publishing engaging content that shows up on YouTube and ranks high on search engine results pages (SERP), you can directly target these users.
Challenges of Inbound Marketing
If inbound marketing is so great, what challenges should businesses consider? Of course, no marketing strategy is perfect, so here are a few things to keep in mind about inbound strategies.
It's a Time-Consuming Process
Inbound marketing may not be a good fit for those hoping for instant results. From the time required for search engines to crawl and index your content to reaching the audience that best represents your target buyers, it takes experience and the right skills to develop and execute successful inbound campaigns.
Might Not Work for All Types of Businesses
Implementing an inbound strategy can be difficult for some companies and organizational structures. Due to their industry, products, services, or target consumers, inbound marketing could have some (albeit limited) success for your business.
Should You Prioritize Inbound vs. Outbound?
The answer isn't simple when determining which form of marketing is better regarding inbound vs. outbound marketing. In many cases, it's not an "either/or" decision but rather a "both/and" plan.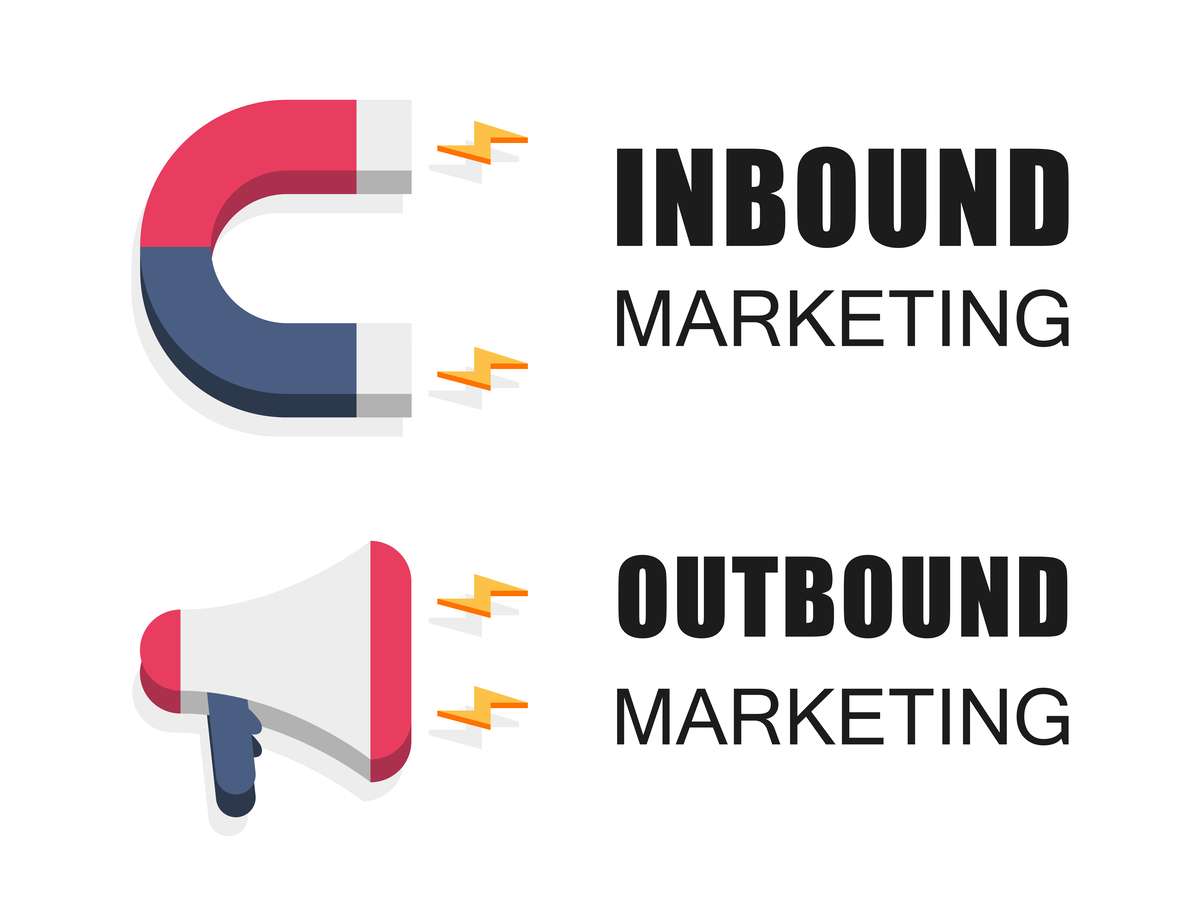 Our Geeks, however, will tell you that when it comes to increasing consumer conversion and engagement while also maximizing return on investment, inbound marketing is unbeatable. No matter what business you're in, building trust with potential clients starts with knowing your audience and anticipating their needs and worries.
Work With an Inbound Marketing Agency to Grow Your Business!
How can you benefit from an inbound strategy that works for your business? You need inbound marketing experts! Geekly Media specializes in providing complete inbound marketing solutions, including regularly scheduled blog articles and relevant content, email campaigns, keyword research, SEO-friendly websites, paid ads, and more.
Our skilled strategists and devoted team of writers create your original content, apply search engine optimization, then distribute it to your target audience with help from our designers, developers, and marketing experts. Grow your business the smartest way: Speak to a Geek!