Review our Post-PMOS Implementation Monthly Service Options!
Congratulations!
Congratulations on completing your PMOS process automation with us! You are now officially in Post-Implementation Maintenance.
What is Post-Implementation Maintenance?
We are glad you asked! You have officially completed the configuration of your PMOS pipelines and are now in "maintenance and improvement" mode.
We know that it took a lot of time, effort, and training to get to this point, and we're confident that you will see the value in this system to run your Property Management Business.
When you become PMOS Post-Implementation, you are provided with 2 hours of client support* time each month. Anything above and beyond two hours for the month will require that we provide you with a quote to complete the requested work.
Keep in mind: you are always able to purchase additional support hours in blocks!
General PMOS Support
If you ever have an issue, question, or change to automation, please remember the BEST way to notify a Geek is through our support ticket form here, or by including/emailing PMOS@geeklymedia.com.
If you email a Geek directly, chances are your email falls into a big black hole (to be honest). Our team practices what we preach and work directly from our HubSpot portal as opposed to our emails. The best way to reach us is by putting in a ticket!
Please note, if you submit a ticket, the time applied to addressing the issue will also count toward your 2 hours of support/maintenance. We will do what we can to pull from the next month in case of an urgent need.
Now, Onto the Fun Part!
With all that in mind, we want to make sure that you are utilizing your support hours to maximize every minute. As such, we are rolling out maintenance options for you to select from each month.
At the beginning of each month, you will receive an email where you have the ability to select the option you would like. If you do not use your two hours of support for that month, we will task out your choice to be completed the following month using your two hours of support.
For example, you receive the email and choose training at the beginning of June. At the end of June, if you haven't used your hours, we will task out the training to happen in July, utilizing your hours.
If we do not receive a response for any of the items below, we will choose one for you so you get the most out of your support hours each month.
What are your Monthly Maintenance Options? We provide more detail below.
Email Review:

We will review all of your emails to ensure consistency in token usage, email signature, "from" name and email information, meeting link usage, call to actions, subscription type, etc. We will report our findings to you. Based on your direction, we'll complete the required updates.
NOTE: You may choose 1 pipeline per month for us to review emails. The typical PMOS pipelines include: Sales, Leasing, Renewals, Collections, or Move Outs.
Knowledge Base Article Clean Up:

Select this option if you need a refresher on your Knowledge Base articles.
We will go through the process that you select for that month, and review the corresponding knowledge base article to ensure that it is correct. We will also add screenshots where applicable and any other information that is relevant to the pipeline.
Below is a snapshot of a typical Knowledge Base article for your reference: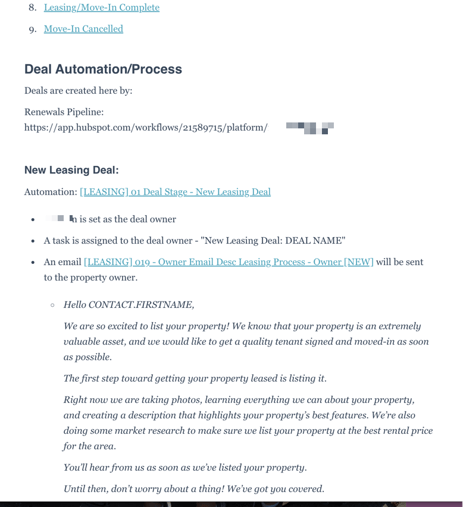 Dashboard Creation*:

These dashboards are a bit different from a typical dashboard for reporting purposes. The purpose of the dashboards we create through this Maintenance Option is to outline each stage of a process (Sales, Leasing, Renewals, Collections, or Move Outs).
Below is a snapshot of a typical dashboard setup through this Maintenance Option.

A report under each specific stage outline will show the current deals in that stage.

We have some clients who are currently utilizing these dashboards and they have received RAVE reviews. Not only will it allow you to filter the reports by the click of a button based on the deal owner, but it has also proven to be a tremendous tool for training new employees.

Sync Issues Review:

You receive a bridge sync issue report each month.
If you choose this Maintenance option, we will review the sync issue report and advise on how to best clean up the issues*.
We will provide a list of suggestions to clean up the current issues in the report. However, we do not execute the clean-up items.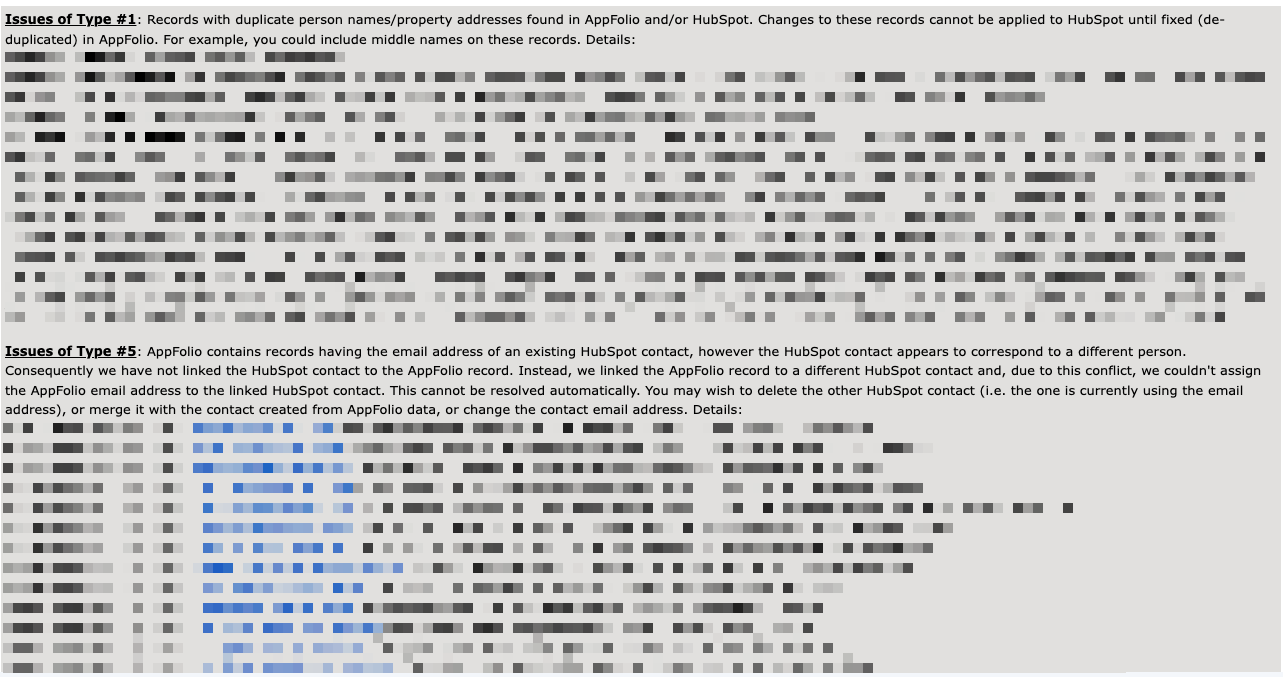 HubSpot Training*

Do you need an update or a refresher on any HubSpot elements? This is the choice for you.
We will deliver 1 hour of training on the topic of your choice with the agenda provided by YOU! Let us know how we can help!
Need some ideas? Review the sessions below and let us know which one we can work through to give you a fresher:

High-Level Overview of HubSpot

We walk through the entire platform at a high level to help you become familiar with where things are and the terminology.

Admin Training

User Permissions and Teams
Paid Seats
Customizing Views in HubSpot
Creating Custom Properties and Views
Etc.

Contacts, Deals, and Tickets

A deep dive into the Contact, deal, and ticket record. If you are familiar with one, the others will be easy peasy!

HubSpot User Set Up

Email Signature set up
Notification Preferences
Meeting Link Set Up
HubSpot Email Integration (sales extension)
Logging and Tracking emails

Creating Lists, Filtering, and Importing

How to create lists
How to filter your database
Create a saved view
Add or remove contacts from static lists
Enroll/Unenroll contacts from workflows
Importing: how to import into HubSpot

Email Sending, Landing Page, and Website Pages

Marketing Email
Introduction to CTA (Call to action) tool in HubSpot
Regular Emails vs Automated emails
Reviewing and TESTING an email before it is sent
Email list creation, including marketing contacts
Email Analytics
Landing Page and Website Page Editing

Sales Tools Overview

Templates
Documents
Sequences (if applicable)
Products
Quotes
Payments
Email integration review

Service Hub Overview

Knowledge Base
Chatbot
Feedback Surveys

Marketing Contact Review

We will review your marketing contact tier and make suggestions on how to keep your marketing contact count below your tier. Once we provide suggestions, you choose which ones you would like to implement.

PMOS Workflow Review:

We'll take a peak under the hood for any glaring workflow errors.
These workflows typically live on the "At Risk Workflows" tab. We will compile our findings and send them over for your review. Once you let us know what you would like to address, we will complete the updates.

HubSpot Usage:

You have this AMAZING platform, but are you using it to its full extent? Let us take a look and provide recommendations on how to get the most out of your platform. We can tell you what you have that you AREN'T using.
We will also review additional features you can unlock by upgrading your HubSpot Subscription. (Typically, these upgrades are not THAT much more, especially when purchasing a bundle.)

Other - I have something else in mind

Let us know how we can help YOU!
Please note that anything requiring additional development by our team or additional functionality of the bridge is NOT included in your 2 hours of support.
Additionally, if a meeting is required to discuss your item, it does count against your 2 hours of support.
*Support hours do not roll over into the next month. Hours will be used for meetings, HubSpot Planning & Configuration, Troubleshooting, and Training (up to 1 hour). Support hours do not include any type of development work. Development work available upon request with an approved quote.
*Dashboard Creation must come after the Knowledge Base article has been updated for the selected pipeline. This ensures that the information going into the dashboard is the most up-to-date based on your process.
*Sync Issues can sometimes take longer than one might think. We will do our best to cover as much of the report as we can for that month.
HubSpot Training is HubSpot-focused, not PMOS pipeline-specific. We are happy to review a pipeline after the knowledge base article has been reviewed and updated.