Revenue Operations (RevOps) Services
What if all of your internal departments talked to each other with a singular focus on your customers and their needs? Revenue Operations (or RevOps) works to accomplish just that! Without an effective RevOps model, companies waste time making critical business decisions that can be costly (and frustrating for customers).
REVENUE OPERATIONS
Give customers what they need and align departmental goals — while your business makes more money.
How good does that sound? The right RevOps model helps businesses sync goals from marketing, sales, and customer support teams to give customers what they came to you for (while helping your company maximize profits)! That means from the first contact with a prospect through closing a deal, a streamlined and automated process satisfies multiple internal goals while delivering what customers need.
Geekly Media helps businesses target the critical elements of a successful RevOps plan, including mapping the process, developing your management system, and structuring your team to optimize actions and results.
Map Your Process
Tackling everything for everyone at once can waste time and money! While RevOps helps align goals from multiple departments, the sales process must be the foundation for your organization's growth. Aligning teams and initiatives for a successful RevOps plan starts by mapping out a plan for timelines, goals, and deliverables. Don't worry: the Geekly Media experts walk your teams through this process.
Develop a Management System
There's no shortage of systems and tools that "could" help your RevOps success. However, not all of them are the right fit for your mapped goals or ultimate success! Geekly Media helps businesses bring the optimal resources together to develop an effective management system while eliminating tools that could create a rats nest of technology that doesn't serve you well.
Structure Your Team
Getting multiple teams to talk to each other and work together isn't always easy. However, a successful RevOps plan must break down silos and develop interdepartmental support to meet organizational goals. Geekly Media helps you structure your people and teams for effective cross-collaboration and RevOps implementation. The right people in the right roles lead to RevOps success!
Ready to optimize your revenue operations? Speak to a Geek to start a RevOps plan.
Our team of certified HubSpot Geeks is ready to help your business grow. Schedule below and speak to a Geek, today!
How Do We Help You Implement RevOps?
Gather Departmental Input
Every department within your company (whether you have only a couple of teams or many different groups) has goals they need to accomplish every year. Often, departments get so focused on hitting those marks they forget about the customer!
At the start of the year, your sales team might not know what your marketing or customer satisfaction group has planned for the year. Too many different goals can compete for your company's resources — and ultimately discourage customers from giving you a chance or sticking around.
Instead of departments competing for customer attention to meet goals, we help teams come together to improve the customer experience. When internal teams understand what other groups hope to accomplish in the upcoming year, your RevOps plan can make that happen!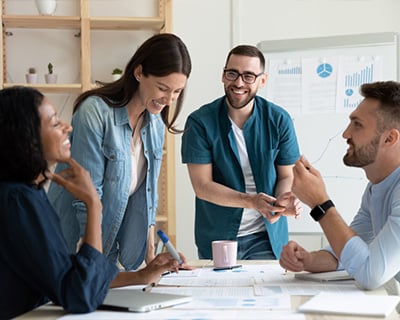 What Clients Say About Us Geeks
We worked with the Geekly team on a project that had gone off the rails. They saved the day, big time. We got great creative that "wow-ed", super fast and responsive team, friendly and fun collaboration, and made new friends. We are so grateful for Heather and the WHOLE GEEKLY team! We look forward to working with them again.

We partnered with Geekly to automate some of our operational systems. They were able to walk us through a process and build a ticketing system and automation for our rent collections, late rent/eviction process. We were able to move one full-time employee off of rent collections and re-positioned them elsewhere in the business.

Can't say enough about Geekly. They are truly experts at what they do and have helped our company tremendously!

Great experience, great team with a wealth of knowledge on HubSpot. Appreciate everything you have done to help us get up and running on HubSpot.

The Geekly team has been amazing to work with. Thanks to everything that they have helped us build our day-to-day operations run smoothly and efficiently.

The team at Geekly has been awesome to work with. They have top-notch talent in so many categories and have really delivered way above expectations on our projects. Our growing business has switched gears several times and they are able to roll with our changes effortlessly. We appreciate you all!

Geekly has truly been top-notch to work with. It is rare you find a consultant who communicates as well and follows through. Very happy with the process and outcome.

WOW, what more can I say about Geekly. They are experts at what they do and have helped our company tremendously! Dealing with Ross has been one of the highlights such a fantastic dedicated efficient detail orientated person. Thank you